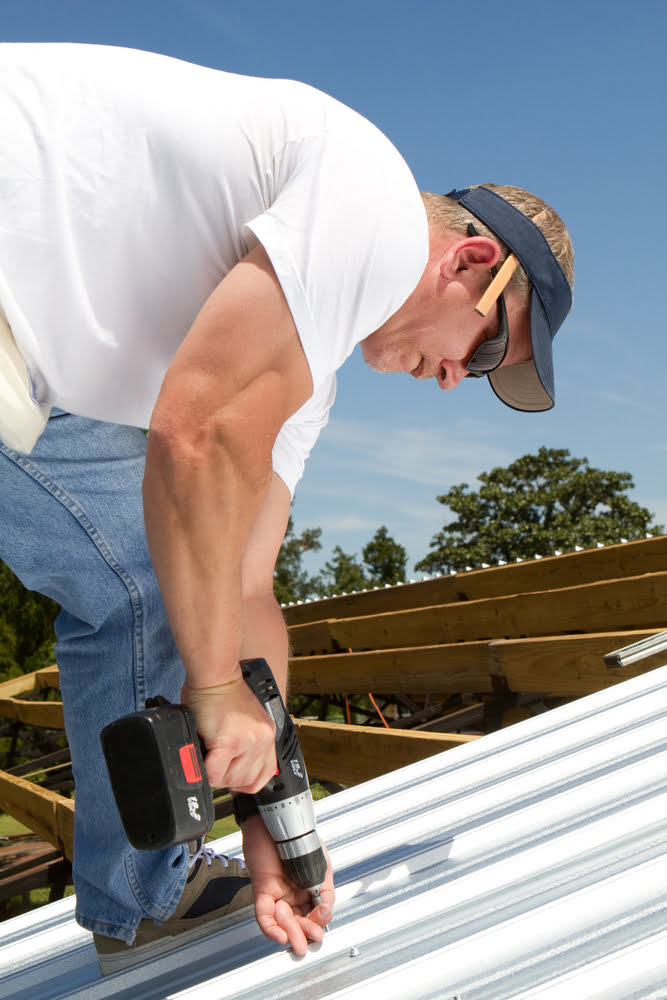 It doesn't matter what style of house or building you own, a metal roof can complement it due to the many possibilities available in today's market. Metal roofs have now been designed to go with any architecture and provide a sturdy, long lasting, and beautiful addition to your home or building.
Today's metal roofing has the appearance of all the popular older materials such as cedar shake, slate, clay tiles, or asphalt shingles without any of the disadvantages.
One of the greatest advantages of metal roofing comes from the fact that it lasts up to two or three times as long as older style roofing materials. Non-metal roofs require replacing anywhere from 10 to 20 years, depending on where you live. The average life of a non-metal roof is 17 years. In contrast, metal roofs can last up to 40 years, and that could be the rest of the homeowner/business owner's life.
Here are some additional benefits to a metal roof:
Metal roofing makes for energy-efficient living
Energy-saving, money-saving metal roofing lowers your energy bills. No matter what the color, metal roofing provides insulation from heat and cold that lowers both your winter heating and summer cooling bills.
Metal roofing provides great long-run savings.
In spite of the fact that the initial cost of installing a metal roof is higher than when installing a non-metal roof, over time, your investment will provide greater savings. This is because your metal roof will outlast any other non-metal roof in your neighborhood—up to twice as long.
Metal roofing offers major short-term savings.
And, for an even greater financial benefit, you'll discover that a metal roof will increase the value of your home. It will also likely lower your homeowner's insurance as well.
Metal roofing comes with long-term warranties.
Another benefit—most metal roofing has a 30 to 50 year manufacturer's warranty. And, your installer warranty will cover the workmanship in the new roof.
Concerning Rust
Anything that contains steel can rust, and any metal will oxidize under the proper conditions: copper, aluminum, zinc. Modern production methods used to protect the steel making up the roof panels minimizes the chance of the steel in the panel being exposed to moisture.  It's coated with zinc or a zinc/aluminum combination that is then bonded to the steel. On top of this paint is applied. Altogether, this provides a very rust-resistant roofing material. Properly installed, modern Galvalume or aluminum roofing panels are rust-resistant even in coastal areas. 
About wind, hail and snow
Metal roofs created for today's consumers are designed to survive up to a 150-mph wind, comparable to a F2 tornado. They also have the strength to survive extreme weather, including heavy snow and hail.
The truth about lightening
Contrary to what some people think, metal roofs do not increase the likelihood of your home being stuck by lightening. Metal roofing actually has the advantage of being non-combustible, non-flammable and will protect your home if it were ever to be struck by lightening. Metal roofs are highly valued in climates with severe weather.
Noise on the roof?
It's not true that a metal roof will be noisy if it is installed properly. A solid sheathing laid under the metal roof will create a barrier that resists the noise of rain, wind, hail, and all kinds of weather.
What does it cost?
We will send a contractor who will inspect your roof and make an estimate of the cost, based on factors such as the pitch and shape of your roof and the style of your house.

Excellent Customer SErvice
Our customers appreciate our honest approach to business, helping them find cost-effective solutions to roof repair and replacement, and a product that is backed by a local family business that is here to stay.
Top Quality Services
Our crews do hundreds of jobs each year, working with homeowners and their insurance companies, who then refer us to their friends and their families to protect their most valuable investments—their family and their home.
P91 Roofing
1400 Graham Dr. Ste B #194
​Tomball, TX 77375
Hours
Office: 8am - 6pm M-F