Flashing and Caulking 101 - with Chris Criswell - Owner - P91 Roofing
When it comes to your roofing's integrity, you can have the best decking, underlayment, shingles, and drip edge money can buy and still have problems. 90% of our roofing company's roofing leak repairs deal with flashing and caulking.  Where do you need caulking and flashing?
Everywhere the roofing touches siding, trim or masonry, you need flashing to create a moisture and wind barrier where the two meet. In addition, caulking is an added barrier for the seams where those two meet or where there are small gaps that need a moisture barrier. In my opinion, a newly installed roof is not finished until it is properly flashed and caulked.

Key locations to look for improper caulk or flashing:
1. All four sides of the chimney where the shingles meet the chimney.
Each side should have flashing that goes up under the siding and overlaps under the surrounding shingles. There are two main types of flashing pictured above: Step flashing and Counter flashing or L flashing. Step flashing is used for diagonal surfaces whereas L flashing is recommended for vertical and horizontal surfaces. A strong bead of roof sealant/caulk is recommended where the flashing meets the brick, trim, or siding.
Final nailed shingles or flashing
2. Final nailed shingles or flashing.
Certain shingles/applications/locations cannot be covered, but are then a possible entry point for water. These should be covered in a generous dollop of roof sealant/caulk.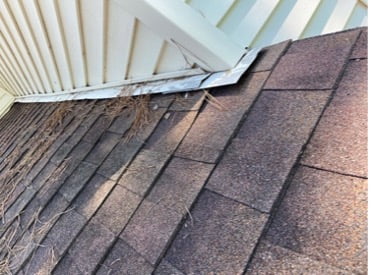 Raised flashing
3. Raised flashing.
Some properly installed flashing can lift up over time due to wind and temperature changes.  That flashing needs to be nailed or screwed back down, or reshaped with a hammer. After securing the flashing, it is a good idea to caulk any nail or screw holes and any seams.
Excellent Customer SErvice
Our customers appreciate our honest approach to business, helping them find cost-effective solutions to roof repair and replacement, and a product that is backed by a local family business that is here to stay.
Top Quality Services
Our crews do hundreds of jobs each year, working with homeowners and their insurance companies, who then refer us to their friends and their families to protect their most valuable investments—their family and their home.
P91 Roofing
1400 Graham Dr. Ste B #194
​Tomball, TX 77375
Hours
Office: 8am - 6pm M-F