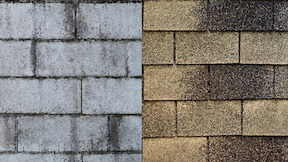 Which roof was approved by the insurance company for full replacement?
Both of them!
You might think neither looks damaged, but, that's not the case. If you've never been through the claim process before, you may be surprised to discover that insurance companies will often cover what looks like no damage at all.
Although a roof may appear to be in perfect shape, both from the ground or even up close on a ladder, damage can be hidden beneath shingles or other roofing. Torn or pulled fasteners and broken seals may be out of sight, but set to cause incredible damage to the roof. Consequently, insurance companies authorize full replacement of the roof in such cases with the goal of preventing further damage and a more costly repair. The problem is that these hidden damages can lead to greater damage to the structure and the interior of the home.
Remember that insurance is there for a reason—to let us relax and enjoy life without worrying about what may come in the way of damage due to natural disasters or just simply bad weather.  Insurance provides assurance that all will be well.
Contact P91 Roofing for a thorough roof inspection to find out if any problems exist with your roof. We do it without any obligation on your part, asking only that you find the assurance you need that all is secure and safe.
Question: Where are you located?
Answer
A. P91 Roofing is locally owned and operated from our base in North Houston.
Question: What areas do you service?
Answer
We service Houston and its surrounding areas.
Question: What types of roofing do you install?
Answer
We install all types of roofing available, including shingle, tile, slate, metal, PCV, TPO, EPDN, modified, and coatings.
Question: Will my new roof require any maintenance?
Answer
The short answer is no, your new roof should not require any maintenance.
But due to the extreme weather conditions in our area, we recommend having a roofing professional inspect your roof at least once every 5 years, and certainly after a wind event or hail storm. 
Question: How long will it take to install my new roof?
Answer
It all depends on the size and pitch of the roof surface. In general, it takes two days for a residential roof.
Question: What does an inspection cost?
Answer
Inspections facilitated by P91 Roofing are cost free and commitment free.
Question: Do I need to be home when the adjuster arrives to inspect my house?
Answer
Yes! You should be home so that the adjuster can determine whether there is any interior damage in addition to any exterior damage.
Question: Is your company a certified installer?
Answer
Yes! P91 Roofing is a Certified Roofing Contractor for GAF.
Certified status is only offered to about 5% of roofing contractors in North America. Those who have earned this designation have exhibited an uncompromising commitment to the highest standards in sales, service, and installation and are authorized to offer the GAF Weather Stopper® System Plus Ltd. Warranty. These contractors have pledged to ensure that each customer receives the best choice in roofing.
Question: Are your crews insured?
Answer
All P91 Roofing employees and sub-contractors are insured, and all sub-contractors sign agreements requiring them to function as per our insurance requirements.
Question: Do you offer financing?
Answer
Financing is available with approved credit.
Question: Can I pay cash?
Answer
Yes! We try to make things easy for you.
Question: Do I have to pay my insurance deductible in full?
Answer
According to Texas state law, a homeowner is required to pay his/her deductible in full. It's important to find a roofing contractor who has good references and can provide you with the best and most honest services.
Question: Is P91 Roofing currently hiring?
Answer
Yes! We are currently hiring residential sales representatives. Please contact us for a job opportunity.
Question: Do you offer referral fees?
Answer
Yes! When we install a roof based on your referral, we will pay you $150.
Excellent Customer SErvice
Our customers appreciate our honest approach to business, helping them find cost-effective solutions to roof repair and replacement, and a product that is backed by a local family business that is here to stay.
Top Quality Services
Our crews do hundreds of jobs each year, working with homeowners and their insurance companies, who then refer us to their friends and their families to protect their most valuable investments—their family and their home.
P91 Roofing
1400 Graham Dr. Ste B #194
​Tomball, TX 77375
Hours
Office: 8am - 6pm M-F